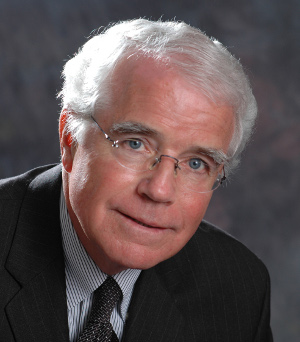 Partner George F. Rice specializes in the areas of not-for-profit law, not-for-profit housing law, zoning and land use, real estate, and higher education law.
Mr. Rice began his practice of law as a Reginald Heber Smith Fellow, serving the poor of the New Rochelle community by facilitating the formation of not-for-profit entities. In 1970, he became associated with the firm of Bennett, Kaye & Scholly in Rockville Centre, where he practiced trial law, real estate and not-for-profit corporation law.
After becoming a partner in that firm, he worked with the attorney for the Roman Catholic Diocese of Rockville Centre and in 1987 was named as Diocesan Attorney, a position he held for more than 15 years. Mr. Rice has also represented the Catholic Campaign for Human Development, and has represented the church in organizing and developing more than a dozen new housing corporations which today provide affordable housing for more than 1,250 senior citizens of limited means.
During this time, he was a frequent speaker on matters involving employment law, land use and other related subjects. He has also represented higher education institutions and commercial entities.
Court Admissions:
All State Courts in New York State

The United States District Court for the Eastern and Southern Districts
Professional Memberships:
The Suffolk County Bar Association

National Association of College and University Attorneys
Education:
Niagara University, B.S.

University of Notre Dame Law School, J.D.

University of Pennsylvania Law School, Reginald Heber Smith Fellow
Community Involvement:
Chairperson, Jefferson's Ferry Continuing Care Retirement Community

Former Member, Board of the Eastern Region of Catholic Health Services

Former Member, Board of St. Charles Hospital

Former Member, Board of the Good Samaritan Medical Center

Former Member, Board of St. Catherine of Siena Medical Center
Former Chairperson of Catholic Health Services of Long Island

Former Chairperson of St. Charles Hospital and Rehabilitation Center

Former Co-Chairperson of the Long Island Healthcare Network.
Awards and Honors:
Catholic Health Services Homecare and Hospice Service Award

St. Charles Hospital Theodore Roosevelt Award

Jewish National Fund Certificate of Honor

Catholic Campaign for Human Development Commendation

Sisters of Charity Seton Award

New York State Association for Services and Housing for the Aging 2008 Trustee of the Year